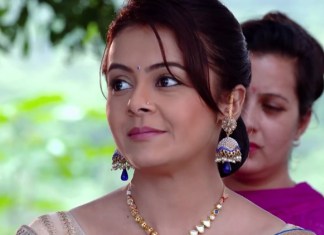 In the last episode Sath Nibhana Sathiya, we had seen that Gaura come to the house and everyone gets shocked to see her standing on her feet. Gaura greets them all and then walk inside. All the family members were amazed to see her fine and Pari tells that Gaura gets to stand on her feet as the magic happens. Gaura tells that she goes to save Dharam and hence gets stand on her feet again.
The family members get glad at this and then Gopi tell her about the incidences happen in the house. Gaura acts as she knows nothing and then asks to meet Urvashi. Gopi takes her along and then Gaura touches Seeta's forehead. She unwantedly prays for Urvashi cure. Urvashi gets out of coma hearing her voice and holds her pallu in threat. She looks at Gaura and Gaura gets shocked to see her like that.
She recalls the incidence that how she try to kill Urvashi before. Gopi calls everyone there and Jaggi gets emotional seeing Urvashi fine. Then they all gets glad to see Urvashi and says that now soon Urvashi will start walking on her feet. Gaura gets shocked at this and takes a step back. Gopi notices it and asks her what happen to her. Gaura makes excuses and thinks on.
Vidya sees a dream that Dharam calls the commissioner and commissioner tell him that Vidya had killed Chanda. She sees that Shravan was kicking her out of the house but then get out of her dream. Gaura on the other side thinks that Gopi doesn't know that her two daughters are in trouble. Later on, Seeta's mother takes a dramatic entry into the house and calls out Seeta. Seeta panics and gets in a corner.
In today's episode, we are going to see that Seeta's mother will torture her and Gopi will try to save her. Seeta's mother will go to him Gopi but Jaggi will save her. Stay tuned with us for more updates and gossips of Sath Nibhana Sathiya like this.