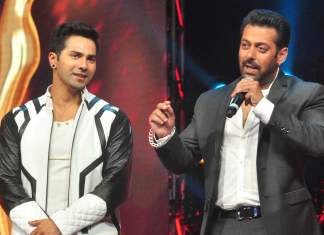 Have you also felt shocked to know that Salman Khan had slapped Varun Dhawan, Oh! then you might know the story behind this. The growing actor of Bollywood industry Mr. David Dhawan's son Varun Dhawan is all set to show his talent in Judwaa 2. The movie is in updates and reviews much before. The shooting is still on head ad Varun says that he is trying to give his best so that he will not let down Salman Khan anyhow.
Varun says that this project is much difficult for him as he has to prove on the expectations from him. He says that he is getting a great support by his father David Dhawan. He also gives the credit of his good work to Sajid Nadiadwala. When Varun was asked about his acting in Judwaa 2, he replies that he will not be able to do this without the support of his father and Sajid. Varun also says that he don't want to let down Salman Khan and the audience in any manner.
Salman Khan's 1997 project of Judwaa touched the great level of success and was a big hit of that time. Salman Khan's double role as Raja and Prem was unforgettable for his fans. This time the expectations from Varun Dhawan are much high. Varun also shares his feeling for his project and says that this time he have to give his best at any cost.
He also shared his memory when he was much younger and being at the shoot of Judwaa, in 1997 with his father. Varun Dhawan shares that he called Salman Khan as uncle that time and Salman replied to call him brother else he will slap him. Varun tells that he was so young and he thought thy all had gone to Mauritius for vacations but actually don't know about the shoot. Jacqueline Fernandez and Taapsee Pannu are also going to see with Varun Dhawan in Judwaa 2.
Now it will be much interesting to see that will Varun be able to create the magic and fun as Salman Khan did in Judwaa. The movie is completing its shoot right now and there are no updates about its schedule to release. Stay tuned with us for more updates and crispy entertainment gossips like this.