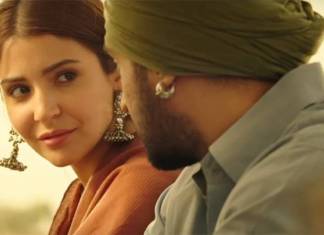 Anushka Sharma has proved that she is a talented actress of Bollywood, she has achieved the milestone in acting within very short period of time. The audience was stunned to see Anushka in her production house's movie 'NH10'. NH10 higher the expectations of the audience from Anushka's production house. The trailer of Anushka's next movie name 'Phillauri' has come out today. The movie is a comedy drama zone movie and Anushka is playing a role of the ghost in the movie. However, it is not a horror movie as Anushka is playing a role of a friendly ghost who does not harm anyone.
In the trailer of Phillauri, we can see that the movie is full of fun and humor. Anushka is looking beautiful ghost in the trailer and adds gags in the movie. As the movie is the comedy drama, it may upset the class of audience who go to the theater to watch something new. The trailer shows that the movie has two shades, the serious phase of the movie is linked with Phillauri's past life who is now the spirit.
The length of the trailer is 2 minutes and 55 seconds. The trailer got more than 166,450 views on YouTube Withing 5 hours of launch. In the beginning of the trailer, the family members of Suraj suggest him to marry a tree as he is Maanglik in the movie. But after getting married with tree his problem gets bigger in the form of the ghost named Shashi. She proclaims in front of Suraj that she is now his wife as she was beside the tree during the process of marrying a tree.
The scenes of Shashi's past life is quite impressive with Diljit Dosanjh. Diljit is playing a role of Anushka's beloved one, he is looking perfect in his role. But Anushka is looking amazing in her new role, in the movie she has a sad story but in the role of a charming and friendly ghost, she is looking flawless in the trailer.
It would be good to see Anushka's new 'avatar' in her latest movie by her own production house.