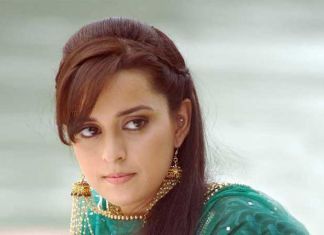 In the last episode of Mere Angne Mein, we had seen Riya and Shivam go to the college and Riya ask for her documents. The man neglects and says that he can't help them as the documents are lost. Riya gets sad and Amit who have Riya's documents file gets glad. Sarla then goes to the belan party office and tell the man that she wants to get stand in the elections.
The man goes to call his senior and Sarla waits outside. Riya then sees Amit on his bike and tell about him to Shivam. Shivam says that Amit cannot harm anyone. Riya gets angry and says that she will not leave Amit now. Shanti sees again a dream about Riya torturing her. Next morning Preeti comes to meet them all. Riya also comes there and tell Shanti that she was going to her office to get her documents from there.
Prabha was ready to join the party but Pari insulted her. Then Sarla comes to the belan party office and Pari gets angry seeing her there. She scolds her and then gets shocked when Sarla tells her that she was going to stand in the elections. Tawa party comes to Shanti's house and ask her to get a stand in the elections. Shanti gets shocked and then much angry.
Sarla on the other side ask the Belan party leaders to let her stand fo their party. The man says that she was not much capable of getting a stand in the elections. On the other side, the man tells Shanti that if she will get stand as the leader then the blame on her can vanish off. Shanti thinks on at this.
In today's episode, we are going to see that Riya will struggle to prove herself right and will try much to take out the way. At last, she will get Bunty with her and ask him to tell everyone that she is Riya. Bunty will also take a step back and will neglect to recognize Riya. Riya and Shivam will get shocked. Stay tuned with us for more updates and gossips of Mere Angne Mein like this.