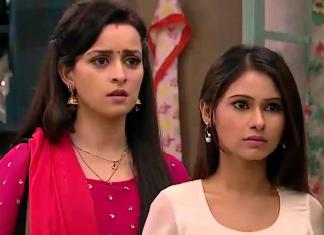 In the last episode of Mere Angne Mein, we had seen that Shanti see the bad dream that Riya was making fun of her. Next morning Riya gets ready to go with Shivam to get the documents. Kaushalaya feeds her curd and sugar. Shanti and Nimmi see the women fighting for the ticket to get their name in the election. Shanti comes in between and sought out their fight. The man sees this and tells about Shanti to his senior.
The senior ask the man to find Shanti's details as she was the perfect candidate to get up in elections. Sarla on the other side ask Amit to go and to keep an eye on Riya and Shivam. The man goes to Shanti and asks about her details. Shanti neglects to tell and says that she wants to be away from politics. Riya and Shivam reach to the school.
Riya tries to make Shivam understand but Shivam asks her to get the documents. Amit was keeping an eye on them and Shivam was unable to see his bike there. Riya talks to the man in the school and gets shocked to know that she can't get the documents. She gets much sad and Shivam tells her that they can get the documents from college and they leave.
Sarla talks to Pari and asks her to help. Pari tells that she gets money by other means. Sarla asks about the work and Pari says that she had become the volunteer. Sarla thinks that she can also get stand in the election and will get many votes as well. Shivam and Riya leave but see Amit's bike. Shivam asks her to go and they leave. Amit says that he have to go to Riya's college before them.
In today's episode of Mere Angne Mein, we are going to see that Riya and Shivam will go to the college to get the documents. She will get sad when she will not get the documents there too. She then sees Amit there and thinks that why he will following her. Riya will then run behind Amit to know the truth but he run away and Riya gets tensed. Stay tuned with us for more updates and gossips of Mere Angne Mein like this.