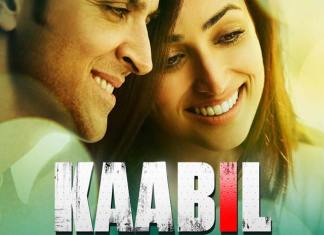 The much-awaited movie of the year from Hrithik's side was in updates before its release as the film being released with Shah Rukh Khan's 'Raees'. Hrithik's Kaabil is not even given a great competition to 'Raees' but also get succeed to called a big hit of the year. Being more connected to the audience's heart Kaabil seems to get much attraction and a great response as well.
The audience seems moving Kaabil from Raees. The movie crossed the 100 crore line by adding up 9.22 crore in the collection on Saturday i.e 4th February 2017. The total collection of the movie counted as 106.2 crores. Now the movie still has much time to collect more in the total collection. Both the movies also gets great competition by Aamir Khan's 'Dangal'.
The clash of two big banner movies never called good for both the collectors. This time Shah Rukh Khan's 'Raees' gets a great start over Kaabil but no more capable of influencing the audience after that. The audience starts showing the interest towards Kaabil and this makes the addition in the overall collections.
Here is the total collection of Kaabil day wise:-
Day1- 25th January - Rs 10.43cr
Day2- 26th January - Rs 18.67cr
Day3- 27th January - Rs 9.77cr
Day4- 28th January - Rs 13.54cr
Day5- 29th January - Rs 15cr
Day 6- 30th January- Rs 6.04cr
Day 7- 31st January- Rs 6.10cr
Day 8- 1st February- Rs 5.70cr
Day 9- 2nd February- Rs 5.25cr
Day 10- 3rd February- Rs 6.40cr
Before both, the movies tries to get rid of the clash and for that Rakesh Roshan shifts the movie release schedule from 26th January 2017 to 25th January 2017. After this, Raees makers also change the schedule to get the maximum profit on Republic day occasion. The clash of both the movies harm the collections a lot.
Besides this, the story of Kaabil in which a blind husband takes the revenge from his wife's killer is much more interesting to see. The reviews for the story gets a high rating as well. Stay tuned with us for more updates and entertainment feeds like this.