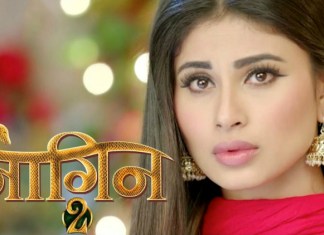 In the last episode of Naagin 2, we had seen that Shesha goes to Maheesh and saves him. Maheesh attacks on Shesha but then leave after she tells that she saves him. Shesha then asks Maheesh to give her the nagmani in return of his horn. Shivagi wakes up and Rocky tells that he just give her the warmth. Shivangi thanks him and Rocky ask her to gave a chnace to their relation.
Rudra then calls Shivangi and Shivangi goes to meet her. She tells him that she was unable to get the nagmani. Rudra tells Shivangi that Yamini had killed Guruji and also taken Maheesh's horn. Shivangi ad Rudra then gets the horn from Yamini as Shesha and Maheesh and give her the fake Nagmani. Later Maheesh goes to Yamini to get the horn and then Yamini gets to know that she gets a fake nagmani.
Maheesh doubts on Shivangi and gets angry. Maheesh then goes to Rocky and ask him to drink with him. Maheesh mixes poison in Rocky's drink but Shivangi stops him and sends Maheesh from there. Maheesh and Rocky get in an argument and Maheesh takes Rocky to the jungle. Shivangi follows them to the jungle as a Naagin. Shesha gets angry on Shivangi and asks Yamini to find the horn again.
Guruji does pooja and tells Rudra that he have covered the horn with safety. Maheesh gets Rocky back and hangs him in air. Shivangi gets shocked to see him and ask Maheesh to leave Rocky. Maheesh makes Rocky falls down and leaves from there smirking. Shivangi rushes to Rocky and says that she will not leave Maheesh now.
In today's episode, we are going to see that for the first time both the naagin will come together and tries to save Rocky. They both pray together to Lord Shivangi to get Rocky's life back. Stay tuned with us for more updates and gossips of Naagin 2 like this.