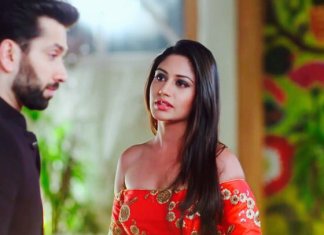 In the last episode of Ishqbaaz, we had seen that everyone sees the Rudra's wedding video and gets shocked. Rudra and Soumya also get much sad and shocked. Then the story turns before to Shivaye who says that if Rudra has no problem then this marriage will happen. Soumya leaves getting sad and Anika goes behind her. Soumya looks at her mangalsutra and Anika gets shocked to see it as well. Soumya then makes excuses with Anika and Anika goes to Shivaye.
She tells Shivaye that she felt Rudra was hiding something. Anika then gets the video of Rudra's wedding and shows it to Shivaye. Shivaye gets shocked and angry. He goes to  Rurda and slaps him. Rudra tells SHivaye that it was just a mistake as both he and Soumya was drunk. Soumya gets hurt when Rudra says that the marriage doesn't mean to him and says the same to Shivaye. Shivaye sys that hence the marriage will happen now. Anika tries to make Shivaye understand but Shivaye takes the final decision.
Jhanvi hears this and tells about Rudra and Soumya's marriage to Tej. Tej says that he just want the deal to get confirm and Jhanvi says that she will stop this marriage anyhow. Later on, Chaddas come for the roka ceremony and greets everyone. Pinky introduce Tia as Shivaye's wife and Anika gets sad and Shivaye looks on at her. Then the roka ceremony was about to start but the video of Rudra and Soumya's wedding gets telecast on news channel.
Mr. Chadda gets angry by this and leaves from there. Tej gets angry and everyone gets shocked to know about Rudra and Soumya's marriage. Tej went to slap Rudra but Shivaye stops him. Tej then blames Shivaye for leaking the video to make his deal cancel.
In today's episode of Ishqbaaz, we are going to see that the whole family will get into an argument and Shivaye defends himself. Tej will keep on blaming Shivaye for the whole situation. Later Tej will blame Jhanvi for all this. Shivaye will defend Jhanvi and says that she just want everyone's happiness. Jhanvi then comes inside running and gets unconscious. They all will get shocked at this. Stay tuned with us for more updates and gossips of Ishqbaaz like this.