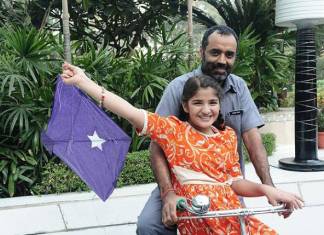 In the last episode of Meri Durga, we had seen that Yashpal ask for the money to the man and tells that he had not worked today. The man asks him not to worry about anything and says that if he needs anything he can contact him. Yashpal takes the money and rushes to home. Durga sees kites while studying and was unable to concentrate.
Baby Massi come to the house and tell about Amrita's marriage. Annapurna gets sad at this and tells baby that she was afraid of what happen before. Baby ask her not to think much. Baby then says to Annapurna that she will help them in every manner. She then gives the money to Annapurna and asks her to get the snacks for the boy's family.
Durga thinks that she can't break her promise she made with Yashpal. Yashpal gets the sweets for Durga but then see the girls buying some books. He asks about the book and gets to know that it was a sample paper of Maths. He then buys the books and only the boodi in sweets. Durga's friends fly Kites and ask for Durga. Baby maasi then greets the Dadi and Dadi praise Annapurna. Sheela gets fume by this.
Shilpa then gets the pizza and goes to Sheela. Sheela gets angry and tells Dulaari that Yashpal always spend money on Durga and she can't take this anymore. Durga then goes to meet Baby maasi and ask for her gift. Baby give her the kite and Durga look on. Brij's loses his kite and he calls Durga. Durga assures that she will get the kite now and run to get it. All the kids run with her and they finally get the kite.
In today's episode of Meri Durga, we are going to see that Durga will be much glad and starts flying kites. She then will get collide with Yashpal and will get tensed. She picks up the book Yashpal get for her and look at him. Yashpal will get angry on Durga and will scold her badly. Stay tuned with us for more updates and gossips of Meri Durga like this.