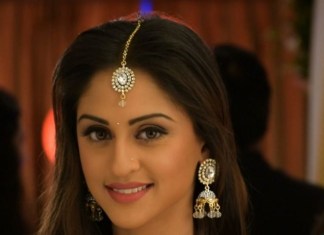 In the last episode of Brahamrakshas, we had seen that Yug finds that Rishab was not at home and goes to suck Raina's blood. He sees Raina sleeping on the sofa and takes her. Kammo sees all this. Yug takes Raina to Kankaraj and asks him to call Narshima. Raina wakes up and says that Rishab will come to save her and calls Rishab. Rishab hears Raina's voice and goes to save her as Narshima.
He beats Brahamrakshas and Brahamrakshas sets fire around Raina. Raina shouts for help and then gets unconscious. Narshima picks her up and takes her along. Yug comes back to home and asks Kammo to apply medicine on his wounds. Kammo gets afraid that does as Yug says. Mitali comes there and asks Yug that how he gets wounded. Kammo was about to tell but Yug stops her and warns her not to open her mouth. Kammo gets much afraid and the apologies to Yug.
Narshima gets Raina out of the house and makes her lie on the bench. He then says that he have to leave now. Mitali hears some voice and goes to check outside. She then sees Raina there and gets her inside. All the family members get shocked to see Raina's state. Dadi questions that how Raina gets harm and ask to call Rishab there.
Mitali says that Rishab might be sleeping in his room. Dadi asks her to make Rishab awake soon. Then Ved tells Dadi that Rishab was not at home and Dadi thinks on. Raina then gets conscious and apologizes to Dadi that she was unable to find Rishab.
In today's episode of Brahamrakshas, we are going to see that Kammo will tell Yug that she know his truth that he is Brahamrakshas. Yug will warn Kammo to shut her mouth and ask her to do as he wants. Kammo will get agree. Then Yug will take Raina to the jungle and Kammo will tell the villagers that Narshima taken Raina from there. All the villagers will go to the jungle. Naina will go to save Raina and then warns Narshima there to leave Raina. Stay tuned with us for more updates and gossips of Brahamrakshas like this.