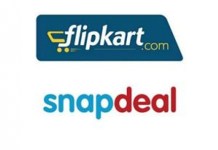 Snapdeal authorities are meeting today to discuss a huge deal for their company. If everything goes well then the two Indian e-commerce giants, Snapdeal and Flipkart, would join hands very soon. But it is not going to as easy as it sounds. Snapdeal is planning to push its business further. But they need the approval of their major shareholders. Softbank is Snapdeal's main shareholder since company's inception. Softbank is facing objection from Nexus Venture Partners. So Snapdeal has to wait for the approval of Nexus. This approval is very important for this Gurgaon-based company.
Snapdeal is looking to make a huge deal with Flipkart. Softbank, the largest shareholder, is taking a keen interest in this deal. But everything is going at a slow pace because of Nexus disapproval. The main purpose of today's meeting is to clear all the hurdles. Snapdeal authorities will talk about Nexus objection today. They want to know exactly why Nexus is not approving; they want to solve the problems. Today's meeting will decide where Snapdeal will go from here. If Nexus approval does not come then the Flipkart deal is unlikely to work out. Snapdeal authorities do not want that.
Reports say that Snapdeal founders Kunal Bahl and Rohit Bansal are also attending today's meeting. They may get some compensation.
Snapdeal is planning to collaborate with its biggest rival Flipkart. Today's meeting will either work for their plan or not. Snapdeal is one of the biggest E-commerce brands in India. They may become a part of Flipkart. If Snapdeal and Flipkart indeed join hands, then it will create tough competition for other E-commerce brands in India.
But everything will depend on the decision of the Nexus Venture Partners. If they approve the selling of Snapdeal's shares, Snapdeal and Flipkart would be joining hands soon.